House or flat? Which is the best option to buy?
Which is better, a house or a flat? If you are thinking of buying a living, you have probably already asked yourself this question. Facing the purchase of a property raises several doubts and problems, probably because it is one of the most important decisions we make throughout our lives. Normally we have a series of conditions or musts that we require our home to cover: security, size, location, expenses, neighborhood, and a long etcetera are part of this list. All of these are determining factors when it comes to deciding.
In addition, facing the acquisition of a home is a decision for life. This is all the more so in the light of the health crisis we are facing, as needs that we did not pay attention to a few months ago are now becoming particularly important. Outdoor spaces, perhaps, natural light, more living space or teleworking places? As expected, the COVID-19 virus has triggered interest in buying and selling houses with large outdoor spaces on the outskirts of cities. However, are we sure we are paying attention to all the advantages and disadvantages of both alternatives? In this blog we have prepared a brief guide comparing houses and flats to help you make your choice.
When we decide to purchase a home, one of the first things we think about is the mortgage and the budget available. The money we are willing to spend will determine, to a large extent, the property we can acquire. In addition, we usually think about the space we will have, and, as a rule, the more square meters a house has, the more it costs. It is difficult, because a single-family house in the mountains will have more metres than a flat, something that we want, however, will be more expensive, and that hurts us.
Furthermore, we are not only talking about the mortgage loan, we must take into account that the larger we live in, the more surface area we have to maintain and the more extra expenses we have to contemplate. A villa will require expenses for swimming pool, gardening, probably cleaning, and in addition, it is likely that we pay more for heating and air conditioning, because the larger the area, the more difficult it is to cool or heat the space, especially if the house is not energy efficient. A flat will never be able to give us the size and space that our dream home would have, but it will be easier and cheaper for us to maintain it, especially when the costs are shared between a community of neighbours. And perhaps we do not have to give up those desired outdoor spaces if we value a residential development or complex, where we can find swimming pools, gyms, gardens, sports facilities, and much more.
Having a house allows, however, to create the home we want. Size, style, material options, refurbishings… All this is easier when the house does not belong to a community of neighbours, since it is only up to you to decide, to change and reform, and that avoids the much hated discussions with the neighbours. Acquiring a single-family property allows you to do without your neighbours, something that, in a flat, is difficult to avoid: regulating noise, taking into account limitations, dealing with bad coexistence and abiding by the rules that the community may have are some of the disadvantages of having neighbours.
Going or parking expenses? This is also something to be taken into account, because we will have to deal with one or the other… Living in a central apartment allows us to have all kinds of public transport close by, and that avoids the expenses that may arise from our private vehicle. However, public transport is also money, and perhaps more than the cost of a vehicle can generate. A house makes parking easier and avoids the cost of public transport, but when we get closer to the centre, it will be very difficult to park there, and let us not forget the traffic jams… It is a question of putting everything on a scale and assessing which weighs more.
Another aspect that we must pay attention to is safety. A scare can happen anywhere, but properties far from the centre are usually more vulnerable. Most villas and townhouses have an alarm set off, as well as good home insurance, but statistically, larger, lower-rise, quiet properties, where few people walk the streets, are more likely to be burgled. On the other hand, living in a flat, where many people live together in the same community, and with higher buildings, provides more protection. This is not a trivial factor and it often tips the balance.
Let's sum up. A flat gives us the following advantages and disadvantages:
ADVANTAGES:
Greater security
Low maintenance and cleaning costs
Less investment
Proximity to the centre
More manageable and comfortable layouts, with optimized spaces
Improved communications in public transport
DISADVANTAGES:
Less space
Few exterior spaces
Less freedom
Limitations by the communities of neighbors
Difficulty in parking
A house has the following pros and cons:
PROS:
Larger size
Outdoor spaces, gardens, terraces and swimming pools
Parking facilities
No neighbors
More freedom, intimacy and privacy
Pet Comfort
CONS:
Greater investment
Reduced security
High maintenance costs
Distance from the centre and public transport
ATIPIKA has all kinds of properties and we offer a solution for every need. Newly built flats in residential complexes, detached houses, charming townhouses and cosy apartments in the centre as well. We invite you to consult our website and discover our wide range of products. For now, we leave you with two of our top properties, totally different, to give you an example of what each option can be. Two worlds.
This exclusive coastal villa is one of our most precious jewels. It is located on the North Coast of Barcelona, a few kilometers from the center. It has a 570sq m area and a two-storey layout, with a garage, garden, chill-out, private pool… It has six bedrooms and five bathrooms. It is everything we could wish for. Besides, its design is unique. By the hand of a prestigious Catalan architect and interior designer, this house offers a magnificent coastal style, avant-garde and minimalist, with top quality finishes and state-of-the-art surveillance technology. Don't miss the opportunity to visit it.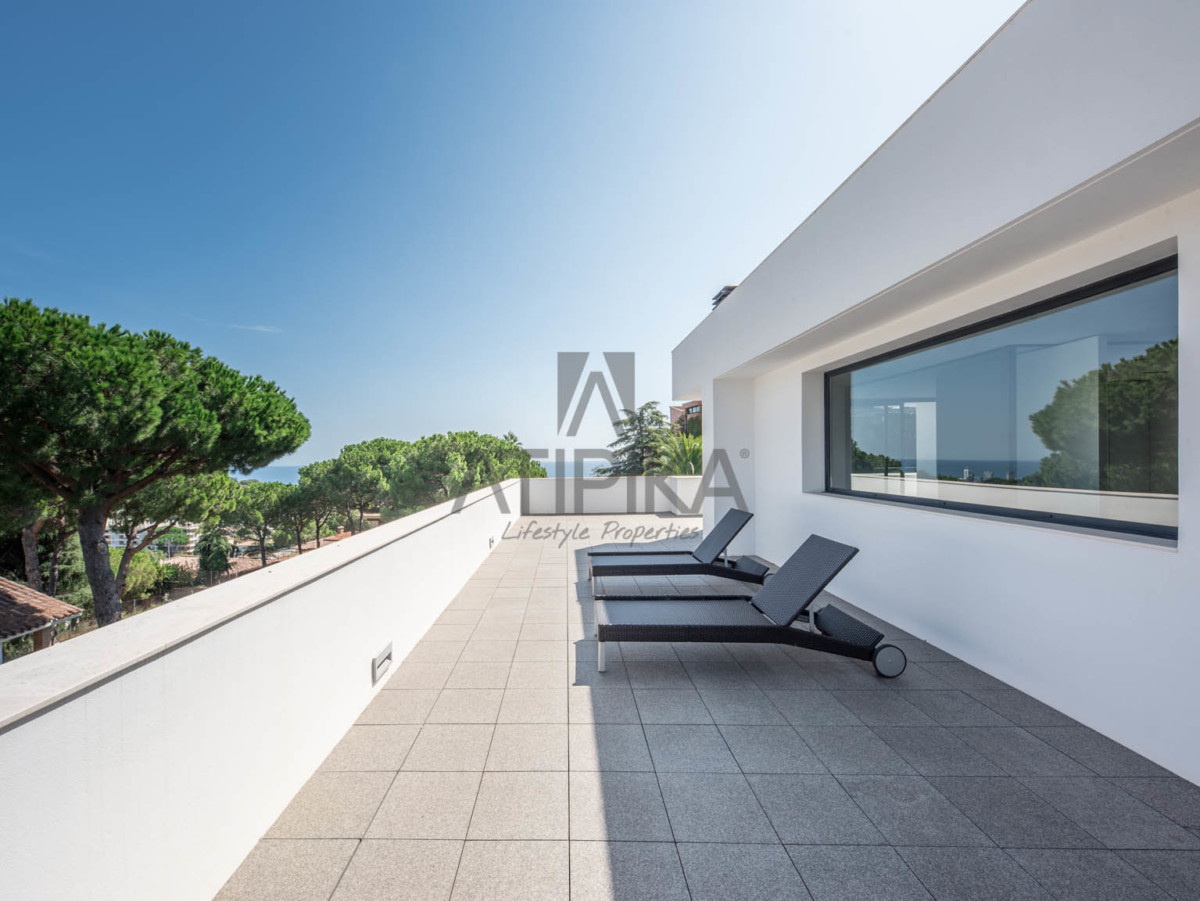 This stunning design apartment is located in the heart of Gran Via, the main artery of Barcelona. It is a property that has been recently refurbished, and it blends original details with a renewed and fresh air, both in its finishes and in the furniture it offers. With 116sq m, its dlayout is comfortable, cosy, and it doesn't lack anything we might need: living room with gallery, open kitchen, three bedrooms, two bathrooms and a toilet. It has air conditioning by ducts, triple glass insulation, natural wood floors and Siemens appliances. A safe bet if you want to live in the centre.
Visit our website to find out all our services and the properties we offer. ATIPIKA's successful path in the real estate market over nearly 20 years makes it possible to offer a broad and attractive range of properties for sale and for rent in Barcelona, with a concise up-to-date information. Do not hesitate to consult our website: www.atipika.com. You can contact us through our chat, send us an email to info@atipika.com or call our phone 93-4815032.